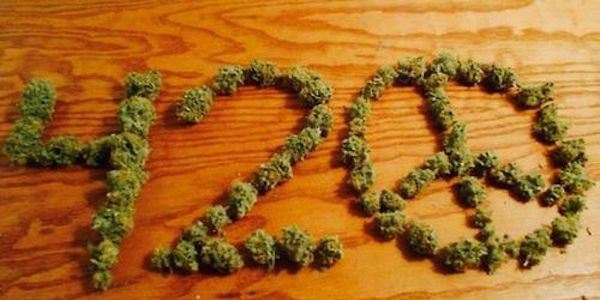 Finding yourself some cool weed accessories can really enhance your smoking experience. There are many excellent devices or items out there that can enhance your smoke sessions. Finding cool weed accessories is another way to make your friends jealous of your weed swag. I would recommend you check out some of the options if you're looking for something for smoking weed or dabbing. While not every weed accessory may be for you, I'm sure something on the list can make smoking weed even better.
Cool Weed Accessories
Toker Poker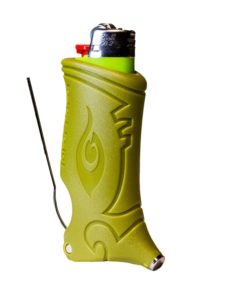 First of all the Toker Poker takes your regular lighter and turns it into the ultimate weed smoking tool. The Toke Poker is a lighter picket that holds a standard Bic lighter. Also it has a poker, tamper, and can also hold hemp wick. This really makes smoking weed a lot easier and gives you all the tools you need in one handy device.
In addition to being an excellent lighter accessory, the Toker Poker also comes at a great price. If you're looking for cool weed accessories this one is definitely one of the best lighter accessories. You can get the Toker Poker in over a dozen colors and designs and it is very well made. If you're looking for more information on this, check out our Toker Poker review.
Design:
Value:
Higher State Creations Lighter Holster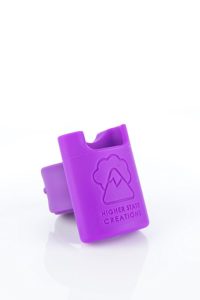 Another excellent lighter accessory is the Higher State Creations lighter holster. This lighter pocket has a slap band that is adjustable and can fit onto most bongs or rigs. The silicone lighter pocket can hold a lighter and has two other holes for pokers or dabbers or anything you need. You can get this lighter holster in a few different colors and it holds most regular butane lighters.
If you're looking for cool weed accessories this is one of the best lighter holders I have used. I actually use a few of these, I have one on my dab rig at all times for the dabber holders. Also I always have a few floating around for the bongs and bubblers in my house. This is one of the best lighter accessories that provides a convenient way to hold your lighter during a smoke session.
Design:
Value:
Pulsar Tap Tray Silicone Ashtray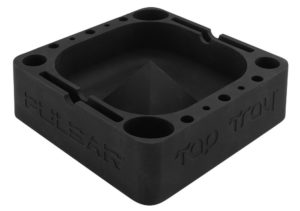 I really like this silicone ashtray for many reasons. Pulsar makes an excellent tap ashtray  that has a lot of extra storage compartments. Also it is silicone so it is heat resistant and easy to clean. There are holes on each corner that can hold lighters or bowls or other things you may need. Also there are plenty of smaller holes for pokers and dabbers.
This is really great for all kinds of smoke sessions and can help you hold weed and dabbing accessories. If you're looking for cool weed accessories, this is probably the best weed ashtray I have used. You can get this ashtray for a low price and it will last you a long time if you take care of it. This is great for weed or dabbing accessories and the silicone is really easy to clean.
Design:
Value:
Dab Dude Silicone Fingertips Dab Tool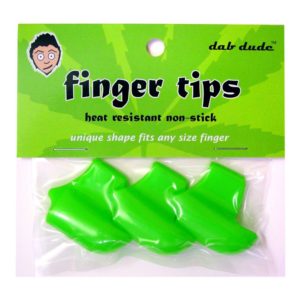 If you're looking for cool weed accessories and you like to dab a lot, you should check out these silicone fingertips. Dab Dude makes some excellent silicone dab tools that fit over your finger tips and allow you to dab with your fingers. It is a great way to prevent your fingers from getting sticky and also prevent burns.
In addition to being sold at a great price, you also get several color options. You will receive 3 heat resistant non stick silicone fingertips. These will help you to dab quickly and easily and avoid getting concentrate on your fingers. You can also use these with a regular dab tool if you just want the added safety of the heat resistance.
Design:
Value:
Eyce Mold Ice Bong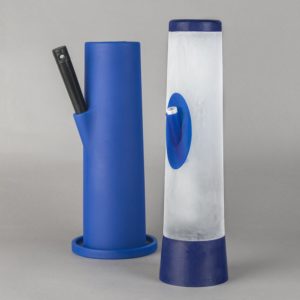 When I first came across the Eyce Mold ice bong I was very intrigued to try it. Basically its an easy to use silicone mold that you fill with water and freeze to make a bong. It provides a really cold hit that takes putting ice in your bong to a whole new level. If you're looking for a unique way to get a cold smoke, this might be the best bong for you.
You can get this ice mold bong for a great price and it can be used to make ice bongs over and over again. There are a few pieces that come with this Eyce Mold to make it easier to smoke. Also the parts are replaceable if you break or lose them. If you're looking for cool weed accessories well this one is frozen cold! Bad joke aside, its a great novelty smoking item that makes a really cool bong.
Design:
Value: