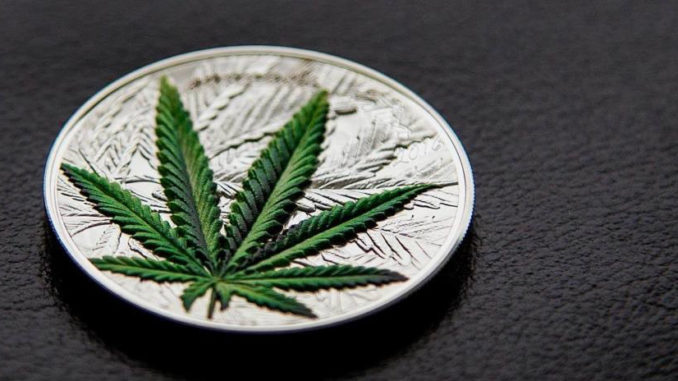 As cannabis becomes legal in more and more states we move towards a brighter future. The future is hard to predict but it is possible to plan for certain issues that may arise. Some legal states can still run into issues with acquiring bank accounts. While cannabis can be legal in a state, it is still federally illegal and this can cause banks to avoiding doing business with the cannabis industry. This causes a lot of dispensaries and cannabis business to deal in mostly cash which can become a problem. With cryptocurrency becoming more and more popular, it is finding use in many new industries. There are a few coins designed for use in the cannabis industry and may become the future of payment methods.
Cryptocurrency in the Cannabis Industry
There is no question that blockchain technology will be a part of our future. There are many applications of blockchain technology that can really benefit the way we trade. Some cryptocurrencies have been made with the cannabis industry in mind. Coins are working to become a form of payment that customers can use to buy weed. If a business is unable to acquire a bank account, they can still process transactions with crypto. There are crypto debit cards that can be used and swiped like a regular card. Crypto can be a way for a cannabis business to move around money or use it to buy products from suppliers. Even if the business can get a bank account, crypto still may be one of the easier payment methods going into the future.
One way to prepare for a new potential payment method is to acquire the cryptocurrency earlier. Crypto like Bitcoin have been increasing tremendously in value each year. This is also true for some of the more reputable cannabis cryptocurrency. If you believe in crypto and think you will be using it to buy things in the future you may want to try to acquire some early. There has already been a surge in price for cannabis cryptos, but there is also speculation that they could go much higher. Due to recent legalization in more states and countries the prices of some coins have already seen a big jump.
Just because the value of a coin went up doesn't mean it is a good cryptocurrency. If you are interested in investing in a cannabis crypto, you should always research the company and their plans. There are some coins out there that are considered dead and don't have a team supporting them anymore. Make sure you are investing in a coin that has a team with a plan behind it.
Some of the more popular coins are HempCoin(THC), CannabisCoin(CANN), and DopeCoin(DOPE). There are plenty of non-cannabis themed crypto coins that can easily be used for the same thing. It is hard to say if companies will adopt cryptocurrencies and which ones, but it is very likely. The cannabis themed coins are designed for use in the marijuana industry and may become the first used. As long as the technology is stable and can meet the demand, it can be a very successful thing in the industry.
How do I get Cannabis CryptoCurrency?
There are many ways to get into cannabis cryptocurrency but the easiest is to buy it. There are exchanges you use to buy these coins, but most of them only take bitcoin. You can also mine some coins by running a program to earn them. Also you can stake coins with coins you have to earn more.