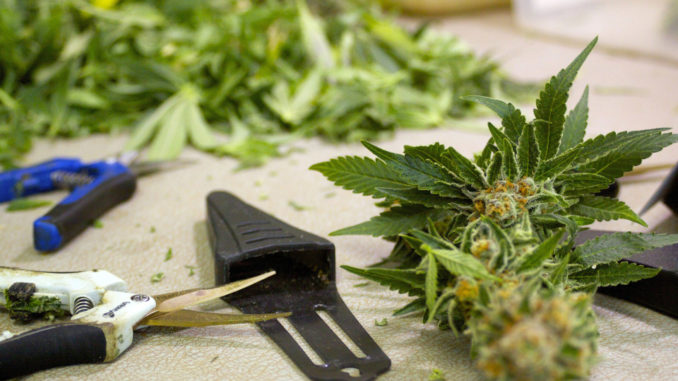 So you've just chopped down your plants and you're ready to trim them. You probably want to find the best bud trimmer to help with the job, but what is the best? Well there are many different types of trimmers for cannabis out there, and some of them will work for different size jobs. You need to consider the amount your trimming and how well you want it done. First of all, nothing beats the perfect look of a hand trimmed bud that was done well. Hand trimming can give you the best results, but it can also take up the most amount of time. If you have several large plants or more to trim, a regular hand trimmer might not be enough for the job. However if you have a small personal stash to trim, a hand trimmer can become quick and efficient with practice.
Best Bud Trimmer
iPower Leaf Bowl Bud Trimmer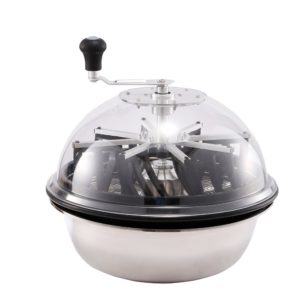 First of all this leaf bow trimmer by iPower is excellent for anyone who needs to trim a lot. This bow trimmer uses a clear plastic top so you can see what you're trimming. Also it has a hand crank for easy trimmer by spinning the knob. This is one of the best bud trimmer bowls you can get if you're looking to trim a lot at a time.
In addition to being made from quality materials, this trimmer also comes at a great price. Also the blades on this are sharp which help for clean cuts and it minimizes cleanup. This bowl trimmer is 16 inches wide and can help you to trim some weight. If you're looking for a bowl trimmer that can handle a lot, this might be the best bud trimmer for you.
Design:
Efficiency:
Value:
GreenThumbPro 2-Pack Bud Trimmers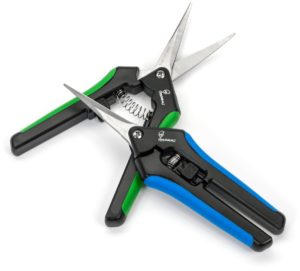 If you only have a few plants to tend to, you may just need some simple pruners or shears to to get the job done. This 2-pack of bud trimmers by GreenThrumbPro has a straight blade, and curved blade trimmer which allows you to get a different cut. Also these hand trimmers are spring loaded and easy to handle.
In addition to being a low price, these stainless steel hand trimmers are made with great materials.  I would always recommend you keep a good pair of hand trimmers around for any size grow. They can come in handy and be used to get the most precise cuts. If you're looking for some solid hand trimmers, this might be the best bud trimmer for you.
Design:
Efficiency:
Value:
Sago Brothers Bud Trimmers
Sago Brothers makes some excellent trimmers that work great for bonsai trees, leaves, and buds. These handheld trimmers are great for quick and easy trimming as well as maintenance on your plants. These are great if you have a larger grow and need to keep a few trimmers hanging around for easy access. Also you can get this in a 6 or 12 pack of trimmers.
While these trimmers are made from high quality materials, they remain at a low price. These bud trimmers can last you a long time if you clean them every once in a while and take good care of them. If you're looking for a pack including multiple trimmers, this might be the best bud trimmer deal for you.
Design:
Efficiency:
Value:
The Clean Cut Bud Trimmer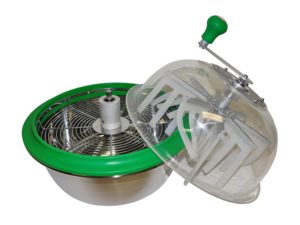 If you're looking to trim a larger quantity, you may want to look into a bowl trimmer. Bow trimmers can provide an easy efficient way to trim a lot of cannabis at a time. You can simple load your plants into the bowl and use the crank to spin the trimmers around. Also the clear top allows you to see what you're working with for the best cut.
This bowl trimmer is very effective for trimmer a lot of bud at a time. Also the blade is adjustable and easy to configure. I would recommend this to anyone who is looking to trim a lot, or regularly trim bud. If you have a lot of work ahead of you, this might be the best bud trimmer for you.
Design:
Efficiency:
Value:
Trim-Daddy Electric Power Bud Trimmer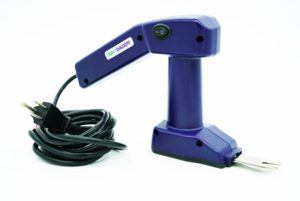 Here is another excellent option for an electric bud trimmer. The Trim-Daddy is a handheld 2-speed electric pair of scissors that dos a great job trimming once you get the hang of it. This electric trimmer has a 5 blade scissor system that is self cleaning and has replaceable blades. The blades are easy to clean with a solution.
I addition to being an excellent price, this product also comes with a 1 year warranty on the motor. This will greatly increase your productivity when trimming. This trimmer comes with a zippered carrying case for easy transport and storage. If you're looking for a quality electric trimmer, this might be the best bud trimmer for you.
Design:
Efficiency:
Value: